Teachers may disagree with this but I dont necessarily think that staring at a textbook all night every night is the only way to revise. Of course there is no substitute for hard work but sometimes (especially for development) I think that watching a relevant film can be quite good. Now for those of you who have kept up with your three hours extra reading each week since Septembet (haha!) then you may have watched/readed a few of these but seeing as a few have asked me for suggestions, I thought I would just qucikly write it all up on here! Follow the links for more detailed reviews, explanation of relevance to modules and trailers....
Development and Globalisation:
Darfur
- a group of international journalists travel to a village in Darfur in search of evidence to persuade the UN that genocide has occured but are forced to live after the Janjaweed turn up and threaten to kill them. I am sure you are all aware of the Darfur Crisis and it is a case study you caould name-drop into an answer, also could be useful AS population module but be warned it is very graphic and definetly not one for the faint-hearted!
Invictus
- after 27 years imprisionment, Mandela becomes South Africa's first elected president and this film follows his bid to unite the country via the rugby world cup, seeing unification as a prerequisite to development.
Goodbye Bafana
- follows the unlikely friendship that forms between Mandela and his prision officer and illustrates some of the social and political impacts of colonialism in South Africa and how they continued to hinder development.
Blood Diamond
- amid the explosive civil war overtaking 1999 Sierra Leone; it explores many issues including those surrounding the diamond trade, supply of arms to rebels and child soldiers. This includes links to globalisation, colonialism, the 'paradox of plenty' and simply how civil unrest prevents development.
Painted Veil -
set in China, in the 1920's, and explores the impact of a cholera outbreak on a village, including references as to how religious beliefs make containing cholera even more challenging and the impacts of an earthquake. Focuses quite a bit on the importance of a water supply to development - the link to the module is slightly more tenuous than with some of the other films and books but it is still worth a watch!
Cry Freedom
- in South Africa and tells the true story of Biko and his friendship with a white liberal newspaper editor. Good film to watch for development as explores impact of apartheid on development and the importance of political stability for development to occur.
Gandhi
- a biopic about the life of Gandhi with particular reference to his prominent role in India's struggle for freedom from colonial rule.
Slumdog Millionaire
- provides an insight into the life of children living in the Indian slums the problems associated here. Also illustrates how they are trying to improve education to enable development.
Erin Brockovich
- a good film that presents the negative impacts of the natural gas industry and the extent to which large companies are prepared to go to, to cover this up. Not only would this be good for the AS Energy module but also globalisation with reference to the negative impact of TNCs.
The Constant Gardener
- a rather sad story about how a drug company exploit the Kenyan population to allow them to test a new drug, despite the fact they know it has harmful side effects. Also explores the idea of corrupt governments and issues faced in LDCs.
The Cove
- this film is very thought provoking and presented the issues surrounding the dolphin trade - before watching this I didn't know a lot about the issue, especially the scale of it in Japan, and it left me feeling very shocked that something like this still exists today in such a developed country. Issues of groupings, tied aid and trade are briefly explored also.
Blood River by Tim Butcher
- tells the story of Tim Butchers quest to retrace the journey taken by H.M Stanley in the 1870s. from this you get an insight into the history of the Congo and the factors have effected its development - great book for the development and globalisation module as it provides an insight into the impact colonialism has had on Africa. Chasing the Devil: On Foot Through The Killing Fields of Africa is another Tim Butcher book, although this time based in Sierra Leona, that covers many issues intrinsic to low levels of development in Africa and the problems associated with this.
The Boy Who Harnessed The Power Of The Wind by William Kamkwamba and Bryan Mealer
- tells the extraordinary true story of a Malawian teenager who overcame many obstacles to provide electricity and clean water for his village by capturing the energy in both the wind and the sun. Good for AS Energy as well as A2 development and illustrates the importance of energy supplies and appropraite technology to development. It also touches on the issues of living in areas of climatic extremes, the role of education and how corrupt governments influence aid distribution.
PeopleQuake: Mass migration, ageing nations and the coming population crash by Fred Pearce
- a book about the population bomb and how demographics is driving politics. Explore how we got to this point and where we are currently heading and how it can be solved. Therefore it is a great book for AS Population (covers practically the entire module with some useful case studies and statistics!) and for A2 development and Globalisation. Human geographers will not doubt love this book but any geographer out there, like myself, who get carried away with the science and forget to mention people, this book is worth a read!
Globalization and Its Discontents by Joseph Stiglitz
- as chief economist at the World Bank that author has a unique insider's view into the management of globalisation. In this book he speaks out against the IMF and WTO and the role of the West in driving global politics. This makes it a very good book for globalisation!
Plate Tectonics and Associated Hazards:
Aftershock
- based around the Tangshan 1976 earthquake, which killed 242,000 people and coincided with huge political changes in China. This film cover issues including aid, politics and follows China as it changes over the time period covered. However, it is centred on one question; which 7 year twin will the mother chose to save? Bewarned it is a very said film, Millie was not overexaggerating when she said it was!
Dantes Peak
- we watched this one in class, the worksheet we used in lessons is on Millie's blog so this could be a useful thing to watch and complete again as part of your revision. Covers preparation, evacuation and monitoring techniques as well as a few inaccuracies that you should be able to point out!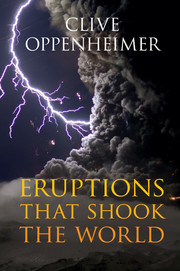 Eruptions That Shook The World by Clive Oppenheimer
- I havent quite finished this book yet but I thought I should mention it as I am finding it quite useful for finding the odd statistic or two! Bascially this book covers everything we need to know about volcanoes and a bit more! Geologists, this is probably a really good book for you to read, but for Geographers it does link all the volcano stuff back to its impacts on people.
Weather, Climate and Associated Hazards:
The Day After Tomorrow
- the Larsen B ice shelf collapses, the thermohaline circulation shutdowns, provoking glacial inception in the northern hemisphere, with other appending impacts - a good film to watch and then point out the geographical/scientific mistakes to test how much you have understood about the influence of ocean circulation on global climate and how a freshwater input could affect it!
Encounters at the End of the World
- a great documentary with some simply stunning footage and interesting interviews that collectively provide an insight into life in Antarctica and the important research that is taking place
The Age of Stupid
- great film to watch for the energy module as it talks about climate change, energy consumption and production via some interesting case studies so also good for the A2 climate module
Gaia by James Lovelock
- presents the Gaia hypothesis which is the idea that the Earth functions as a living organism and so self-regulates to adapt to changing conditions. This book puts forward some very interesting ideas, linked very closely to climate change both naturally and anthropogenically forced, making for an interesting read!
The Revenge of Gaia by James Lovelock
- applies the Gaia hypothesis to global climate change - again an intriguing read which presents some interesting ideas and solutions to problems we are likely to face with population expansion and coming global climate change
An Inconvenient Truth by Al Gore
- I am guessing most will have heard of this one! It presents the issue of climate change and discusses how it has been caused and the impacts it is likely to have - well worth a read but if you prefer there is also a film version.
Our Choice by Al Gore
- this book follows on from An Inconvenient Truth by offering the solutions Al Gore thinks are required to solve the issue of global climate change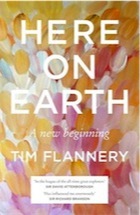 Here on Earth by Tim Flannery
- This is essentially a "revolutionary dual biography of the planet and our species." It covers the history of the earth from its earliest origins to the world we currently live in. it offers answers to a long list of questions - How did life first emerge? What forces have shaped it? Why did humans come to dominate? And when didiwe start to have an impact? How has this changed use as a species? It is probably wise to have a bit of knowledge of the Gaia hypothesis before reading this as it does mention this a bit. It is a very interesting book and one that leaves you questioning why on earth we did some of the things we have and continue to do - essentially a great book for all Earth Scientists!
Climate Wars: The Fight For Survival As The World Overheats by Gwynne Dyer
- "An increase of 2C in average lobal temperature - which is almost inevitable - will hear global politics to boiling point." Bringing together extensive interviews and latest research this book revela the realities of a planet facing scarce food, water and land. Can out technology save us, or is it too late? It is written in an interesting way as takes the science, makes it understandable before focusing on what excatly this means for society now and in the future. Any geographers out there, like myself, who get too carried away with the science of climate change, without consideration of what that means for people, this book is definently worth a read!!!
Storms of My Grandchildren: The truth about the coming climate change and our last chance to save humanity by James Hansen
- covers global climate change, with both causes and consequences and the more contemporary role of politics, especially in the USA, in climate research - an interesting read but in places the level of science goes beyond the A-level syllabus.

Well, there are plenty more but this is probably enough to keep you busy for a while! There are also all the relevant documentaries, parts of which we have watched in lessons, like How Earth Made Us, for example, and I think quite a few of them are in the LRC. Unfortunately not many Geography related things are that happy so perhaps don't watch/read them all at the same time! I am still on the hunt for a 'happy' geography film or book! If you have any suggestions for others, or any comments on the above, let me know!